Maine Radio Industry Partners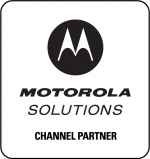 At Maine Radio, partners mean a lot to us.
We do more than just provide strategic wireless communication solutions for our customers. We also focus on building meaningful and beneficial relationships with our partners.
We're proud to be a member of Motorola's Channel Partner Network. Working together with Motorola, the leader in communications technology around the world, we'll build the solutions that you need and deliver results that you can count on.
Motorola Solutions
Motorola Solutions is one of the top providers of efficient communication services and solutions for today's wireless two-way communication devices. No matter what your business, all the way from production to off-site to your front office, Motorola has solutions that work. These solutions allow your business to be more productive as your team works in demanding and competitive environments.
Companies around the world are transforming their business with Motorola's integrated wireless solutions and services, using their equipment and applications. Motorola's wireless radio systems connect your team and keep all of your operations running seamlessly so that you can stay competitive. Using advanced technology and innovative strategic plans, Motorola is a leader in the global market as they provide their customers with the tools they need to stand out from the rest.
Product Catalog
At Maine Radio, we have a unique partnership with Motorola Solutions, and this means you get access to their portfolio of advanced products and services. When you combine their products with our expertise in communications technology, you get superior solutions that are tailored to your unique business challenges.
Check out our Motorola Product Catalog to discover the latest 2019 Motorola equipment to support your industry. Maine Radios partners with Motorola to provide a full product line of equipment that offers end-to-end solutions to optimize the performance of your two-way radio communications system. Our experience and partnership with Motorola ensure that your workforce and team have both clarity and security for maximum reliability.
We're committed to delivering the best coverage for your business so that you can completely trust in the reliability of your communications system. Motorola's product catalog is always up-to-date with their most technically advanced equipment. We have a full understanding and knowledge of Motorola's wireless communication products and can advise you on the right choices for your business.
Whether it's two-way radios and accessories or complete communications system solutions, Maine Radio partners with Motorola and has the answers that you need.
To learn more about our partnership with Motorola, contact us. We're happy to discuss what it means to partner with a superior wireless communications leader.